What's On?...
Thursday 19th July 2018 - Quiz Night
with Jimm Rennie - FREE to enter
Cash Bingo Round - KO 8:00pm
Saturday 4th August 2018 - Live Music
SABBEARTH - 9:00pm
Saturday 11th August 2018 - Live Music
THE BIG BOSTIN' BLUES FUNDRAISER
THE RATTLESNAKES, UNDERGROUND STORM & DISCHORD - 7:00pm
Delivering a big bostin' FUNdraiser and rattling tins in aid of Birmingham Children's Hospital. Come down to The Black Country Arms to 'rock out' and help us raise lots of money!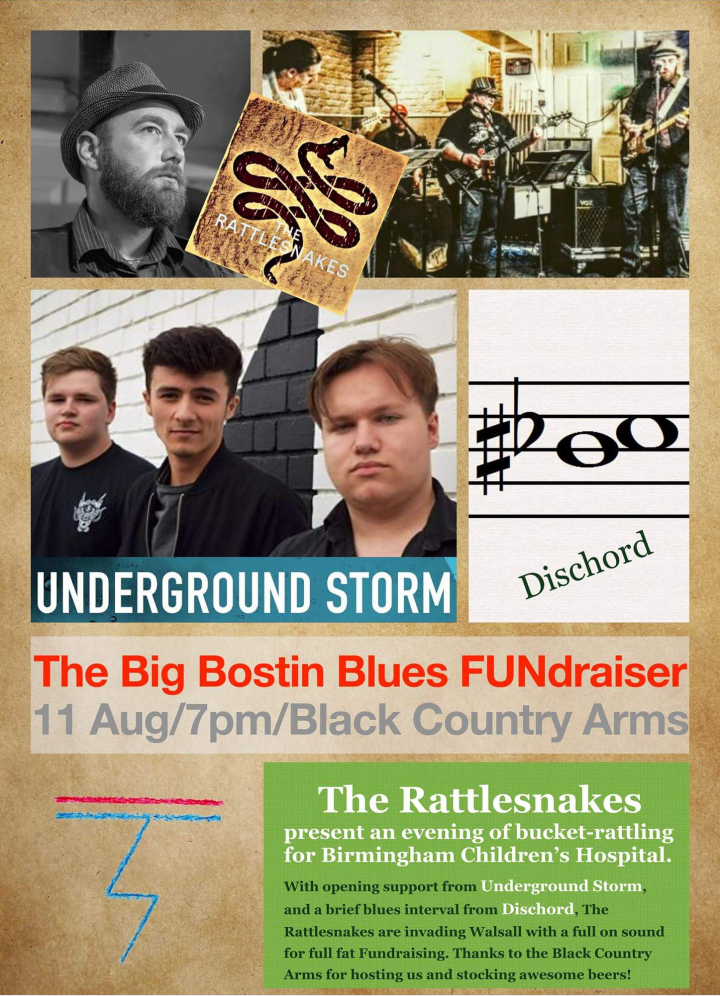 Thursday 16th August 2018 - Quiz Night
with Jimm Rennie - FREE to enter
Cash Bingo Round - KO 8:00pm
Saturday 18th August 2018 - Live Music
THE GUVNORS - 9:00pm
Saturday 8th September 2018 - Live Music
RESTLESS DOG - 9:00pm
Thursday 20th September 2018 - Quiz Night
with Jimm Rennie - FREE to enter
Cash Bingo Round - KO 8:00pm
Saturday 22nd September 2018 - Live Music
MAZ MITRENKO BAND - 9:00pm
Saturday 6th October 2018 - Live Music
ZEPPELIN 3 - 9:00pm
Saturday 13th October 2018 - Live Music
FREEWHEELIN' - 9:00pm
Thursday 18th October 2018 - Quiz Night
with Jimm Rennie - FREE to enter
Cash Bingo Round - KO 8:00pm
Friday 19th October 2018 - Live Music
KIRSTY CLARKE & THE BEATING HEARTS - 9:00pm
Friday 9th November 2018 - Live Music
THE BOYS FROM THE ALL NIGHT CHEMIST - 9:00pm
Thursday 15th November 2018 - Quiz Night
with Jimm Rennie - FREE to enter
Cash Bingo Round - KO 8:00pm
Saturday 17th November 2018 - Live Music
BAND OF TRAMPS - 9:00pm
Saturday 24th November 2018 - Live Music
THE FRENZIES - 9:00pm
Saturday 1st December 2018 - Live Music
MAZ MITRENKO BAND - 9:00pm
Thursday 20th December 2018 - Quiz Night
with Jimm Rennie - FREE to enter
Cash Bingo Round - KO 8:00pm